Press Release
PETROLOG GROUP AND HUNTING ENERGY SERVICES ANNOUNCE PARTNERSHIP TO DISTRIBUTE ORGANIC OIL RECOVERY TO SUB SAHARA AFRICA
[Houston, Texas] - Petrolog Group, a leading provider of oilfield services, today announced its partnership with Hunting Energy Services Limited ("Hunting"), a global energy services provider, to distribute their Organic Oil Recovery (OOR) technology to Sub Sahara Africa. OOR is a unique, tertiary enhanced oil recovery process that activates microbial life resident in reservoirs to increase oil production. The technology can dramatically improve the mobility of oil trapped in tight pore spaces or on the oil-bearing rock, leading to improved ultimate oil recovery. It also has the added benefit of significantly reducing H2S levels within the reservoir.
The partnership between Petrolog Group and Hunting aims to bring this cutting-edge technology to Sub Sahara Africa, where the demand for energy is increasing, and conventional oil recovery methods are becoming less effective. The use of OOR in Sub Sahara Africa has the potential to significantly increase the production of oil and gas, leading to greater energy security for the region.
The partnership between Petrolog Group and Hunting will leverage the strengths of both companies to deliver high-quality products and services to customers in Sub Sahara Africa. Petrolog Group brings extensive expertise in oilfield services and a deep understanding of the Sub Sahara African market, while Hunting has a strong reputation for innovation and technological expertise.
"We are delighted to partner with Petrolog Group on this exciting venture," said Christopher Venske, Global Product Line Manager for OOR at Hunting. "The use of this globally proven technology has the potential to unlock significant reserves of oil in Sub Sahara Africa, and we believe that our partnership with Petrolog Group will enable us to bring this technology to market quickly and efficiently."
About Petrolog Group Petrolog Group is a leading provider of oilfield services, including drilling, completions, production, and intervention services. The company is dedicated to helping customers improve their production and optimize their operations, with a focus on safety, efficiency, and reliability. For more information, visit www.petrologgroup.com.
About Hunting Hunting plc is a global energy services provider that operates in more than 50 countries worldwide. The company provides a range of services to the oil and gas industry, including well construction, intervention, and completion services, as well as manufacturing and supply of oilfield equipment. Hunting is committed to delivering sustainable solutions to the energy industry and creating value for its customers. For more information, visit www.huntingplc.com.
Contact:
Anita Robinson, General Manager
Petrolog Group
Mobile: (713) 961-3324
Email: anita.robinson@petrologgroup.com
---
Energy News Feed
Press Release
ANNOUNCING PETROLOG'S BRAND NEW DIVING SUPPORT VESSEL: DSV VINNICE
PETROLOG is proud to announce the arrival of its brand new, 100% Nigerian owned, Nigerian Flagged, ABS Classed, 85m DP2 Dive Support Vessel, DSV VINNICE to Nigeria.
The DSV VINNICE is outfitted with a 100T AHC, 182 man capacity, 9 man saturation diving system, air dive spread, ample deck space, 4 point mooring, amongst other world class features.
DSV VINNICE is a bold addition to our ongoing fleet expansion in response to the Local Content and Capacity building drive by NCDMB.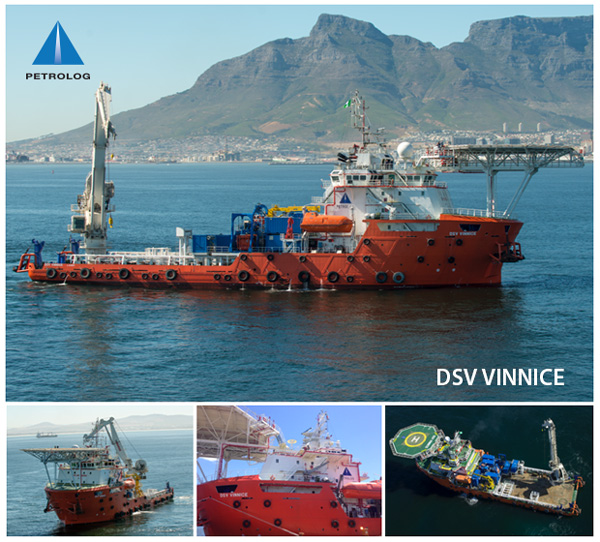 ---